Houston Home Safety: Fire Escape Plan Essentials
10/24/2016 (Permalink)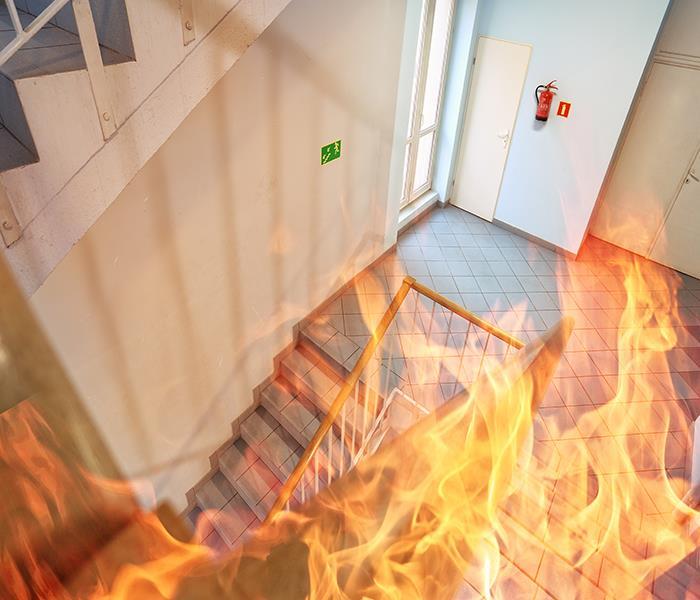 SERVPRO wants to remind our neighbors and friends with Houston fire safety tips to prevent fire damage now, and throughout the year.
Throughout the greater Houston area, later this month kids and adults alike will don their scariest or funniest costumes and enjoy Halloween parties and trick or treating. Once the costumes are stored, the rest of the celebratory season comes roaring in. The holidays are filled with parties, decorations, cooking, and cooler weather, all which make this time of year more prone to home fires. SERVPRO of Clear Lake, your SERVPRO in Houston wants to take this opportunity to remind our neighbors and friends with Houston fire safety tips to prevent fire damage now, and throughout the year.
If a fire does break out in your Houston home, do you and your family know the fastest and safest way to escape? If you have not yet devised a fire escape plan for your home, please follow the following directives to create one now, before holiday parties start and decorations are up.
Map Your Home. Sketch the layout of your home, including all doors and windows. Be sure to include any exterior landscaping or architectural features that are outside of doors and windows.
Walk Your Home. With your sketch in hand, walk through and identify all exits and escape routes in the event a fire starts in your Houston home. Please note that it is highly recommended that each room has 2 exit points. This is typically a combination of an interior door and a window.
Determine if All Exits Are Passable. While evaluating your home, make sure that all doors and windows open easily to allow for quick evacuation in the event of a fire in your Houston home. In addition, make special note if any furniture should be rearranged to allow for quicker egress in an emergency.
Draw Potential Escape Routes on Map. If a fire breaks out in a common area, what is the quickest and safest exit? Run several scenarios, and determine the best paths for exit depending on where the fire is, and where your family is in the home. This is particularly important when a fire breaks out during the night – be sure that everyone has a safe exit from their bedrooms.
Select A Designated Safe Meeting Space. During an evacuation, chances are several points of exit will be used by your family. It is imperative that you select a safe space to meet up with one another. This may be by the mailbox, in the front yard of a trusted neighbor, or on the curb. Wherever you choose, select one that is generally free of debris and well lit.
Complete Sketch of Evacuation Plans. You will have several plans that can be executed, depending on where the fire damage in your Houston area home begins. Give each member of your family copies of the plans so they see the best escape options in the event of an emergency.
Practice Fire Escape Plans. Hold a practice fire drill for each scenario. Make special note of any challenges that occur and make whatever changes are necessary to ensure a speedy escape from the home. Once your plans are finalized, practice twice a year, to make sure everyone knows that safest way to exit your home during a fire.
Special Note. During the holidays furniture often gets rearranged and decorations drape windows and doors, make sure that they don't impede a safe exit in the event of a fire. Your locally owned and operated Houston SERVPRO wants you and your family to remain safe throughout the year. The faster you can exit the property and call 911 for help, the less fire damage, and Houston water damage will affect your home. If your home is damaged by a fire, we stand at the ready to help our community throughout the fire repair process. Call us anytime disaster strikes; our team is available 24 hours a day.
About The Clear Lake SERVPRO
SERVPRO of Clear Lake is Faster to Any Size Disaster, helping residential and commercial property owners when natural disasters, water damage, sewage backups, floods, fires, mold infestations, and other events happen.